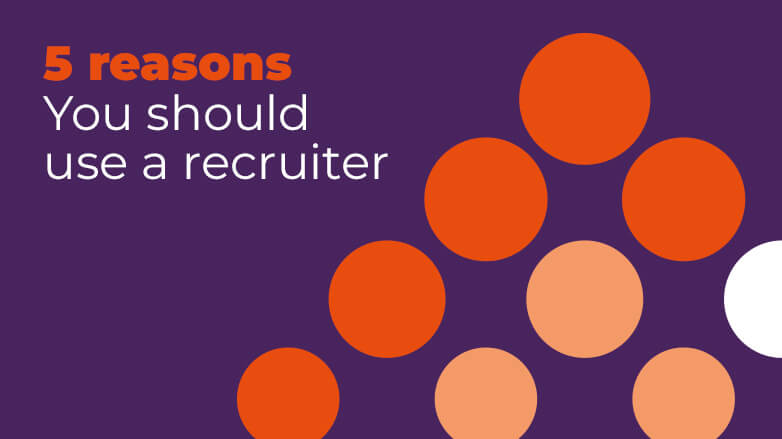 10 Aug

5 reasons you should use a recruiter

You have a busy job. You can't possibly do your job and be all over what's happening in the hiring space. A recruiter's job is to know about opportunities in the market and across many international markets. It's what we at MBS do all day / every day. Unless you are willing to invest many hours of your time researching and talking to firms, use a recruiter who you are confident can offer you current advice across all markets / sectors.
2. Knowledge of active roles.
We talk to our clients daily or weekly so we know what's really active; where they are focusing their recruitment efforts; and importantly, whether a role which is showing on a firm's careers site is active or out of date. We can tell you whether there is an offer out, and whether it's worthwhile applying at this point in time. This is especially true in smaller markets, where there are very few firms you want to target. Do you really want to send your CV to a firm that does not have a genuine role and current recruitment need?
Recruiters who have a strong relationship with the firm know the best route to get you an interview. Going direct to a partner could be most effective. In other circumstances sending an application via an effective HR / internal recruitment team can mean you get the interview rather than your email getting lost in an overburdened partner's inbox.
4. Interview preparation.
A recruiter who knows the firm well can give you real insight into the culture and the team, as well as other valuable information on the firm's strategy, partnership structure, training programmes, or remuneration structure. Some of these things you should not be asking about in the early stages of an interview process. A good recruiter will also give you valuable interview training at no cost to you. Through a good recruiter you will be better prepared and have a distinct interview advantage over other direct candidates.
5. Avoid direct salary / package negotiation.
A lot of people don't like talking about money. Even if you are comfortable with these conversations, a recruiter who knows the firm and its salary structure and benefits package can advise you on what to expect, what is reasonable to negotiate, and how much movement there is likely to be. In most cases the recruiter will have these discussions for you. Having a third party negotiator can avoid awkward conversations, often with your new boss, and will often get you a better deal. A recruiter will also know the firm's policy and what cannot be changed without a universal policy change (which is unlikely to happen just for you). Knowing what is achievable means that you don't start a new job with your new employer feeling you've behaved unreasonably or naively in your salary negotiation.
Our team is here to help you find and secure your next career move.